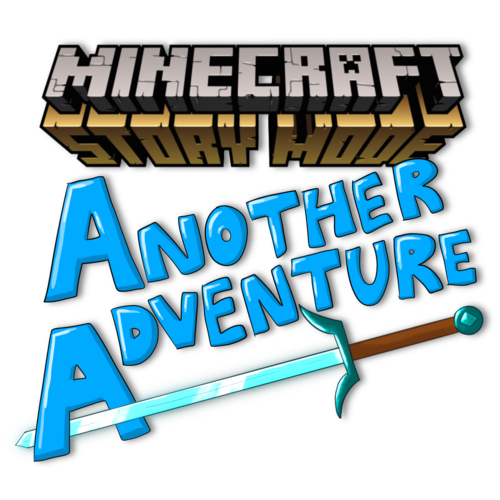 Another Adventure
A downloadable game for Windows, macOS, and Linux
Created for the third Extra Credits game jam.

Welcome to Minecraft: Story Mode - Another Adventure! This is a Minecraft: Story Mode fangame where you play as Jesse (again) and go on an adventure (again). You're joined by familiar characters like:
Lukas (who writes a lot)
Petra (who's good at fighting)
Olivia (who's good at redstone)
Axel (who's good at blowing stuff up)
Romeo (who used to be the creator of the world or whatever)
Xara (who also used to be the creator of the world)
Try to survive and win the game as you enter a fortress that is pretty much not a place you want to visit for spring break and explore exciting features including:
A really gorgeous GUI that we unfortunately didn't make.
Nonexistent RPG battle mechanics.
Choices. (Everyone likes choices.)
Banter. (Banter makes everything better.)
No dating. (This is not an otome.)
Follow Jesse on a (very fun) adventure where you try not to get crushed, avoid zombies, and can banter with people.
(But there's some strange cycle you seem to be stuck in... why does Jesse keep dying?)
-----------------------
ANOTHER ADVENTURE is a short fan Minecraft: Story Mode visual novel created in 4 days for Extra Credits Game Jam #3 where you try not to die and just run around a lot. This game was not made in association with TellTale Games or Mojang (the original creators of Minecraft: Story Mode) and we do not claim to own any of the trademarked characters or settings from it.

Content warning: This has two swear words in it and a bunch of censored ones.
Note: This game was made in four days. As such, the appearance and writing reflect the fact that it was made in four days. If there are any grammar mistakes or catastrophic bugs, please contact us using the comments section, Tumblr, Twitter, or other social medias that you can find 'Astral Autumn Games' on.
Note #2: There is one small bug where if you have any other games with the Fade GUI, it may have those existing saves there. This will be patched in a later build.
Download
Click download now to get access to the following files:
AnotherAdventure-1.0-mac.zip
80 MB
AnotherAdventure-1.0-pc.zip
96 MB
Comments
Log in with itch.io to leave a comment.
can I make art my discord troler_noob#3088
I'm not certain what you mean by that; the game is already finished along with the art?
I was talking about the future games art I am small artist who wants to do something inportant not only make art that reachess little of humans
BTW you dont need to pay me I am free in art side not labor
Ah, I see. I actually make all of the art for my games and at the moment don't really need any help to make more. I do appreciate the offer, though!
if youl need me message me Ill be there well not all the time I am a human and I need to sleep